Ventilation box with filtration : CVF
Ref. CVF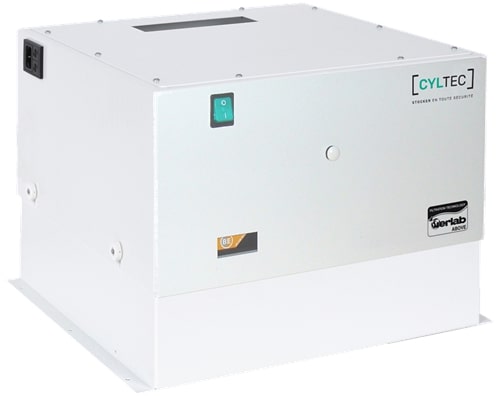 Fits all hazardous products storage cabinets.
The purified air is recycled in the room at 99.99%, which avoids the work of drilling walls or the laying of exhaust pipes.
Why choose the ventilation box with Cyltec filtration :
Complies with the specifications of standard NFX 15-211
A soundproofed ventilation box
Integrated ERLAB active charcoal filter
Adapts to all cabinet models
Made in France
Quick and easy installation
Ready to use
CE standard
Front cap for possible efficiency control
Included in delivery :
Double fuse base
2.5 meter power cord
A choice of ERLAB filter included :
AS for flammable liquids,
BE for acids and alkalis,
F for formaldehydes,
K for ammonia,
HEPA for powders.
(A detailed list of products and quantities can be sent for validation of the choice of filter)
Interested in this product ?
Technical features
Dimensions : HxWxD

300 X 410 X 435 mm

Weight

25 kg

Volume flow

60 to 74 m3 / h

Noise level

49 dBA

Nominal voltage

230 V single phase - 50hZ

Collar

Ø 75mm